Liposuction Basics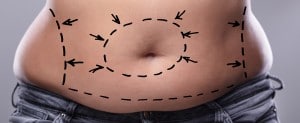 Women's Institute of Cosmetic & Laser Surgery – Liposuction Basics – Schedule a Consultation at 630-232-7860
Are you physically active, healthy and overall happy with yourself and what you see in the mirror? Maybe you're unhappy with just one area of your body that irritates you because no matter what you do, you just can't seem to eliminate or decrease the size of your arms, inner thighs, outer thighs or abdomen?
First – take a deep breath and realize that feeling this way is entirely normal! Then, realize that you can do something about what's troubling you about your appearance besides aggressive dieting and consistent exercise. Liposuction is a great option for addressing those hard-to-eliminate areas of extra fat.
What are the steps involved in liposuction?
Start with a consultation with Dr. Hein at the Women's Institute of Cosmetic & Laser Surgery. You'll receive useful information that will answer all your questions about this very effective procedure. After an evaluation of your general health, medical history and review of a current physical from your primary care doctor, we'll assess the areas of your body that can be improved with liposuction.
On the day of the surgery, you must bring a driver to transport you home safely. Usually, liposuction is done as an outpatient procedure and takes approximately two to three hours. You'll then be able to proceed home and resume moderate activities within just 24 hours. Wearing compression garments as part of the healing process is typically necessary for about three weeks. About one week after liposuction surgery, the sutures will be removed – you may experience some bruising for about two weeks.
Decrease in the shape and size of the targeted problem areas is the goal of liposuction. You'll experience the benefits of liposuction when you take a look at your former "problem" areas and see that they are not a problem any longer!
The general type of liposuction performed at the WICLS is called "superwet" or tumescent liposuction. This technique enhances more removal of fat in a safe and effective manner.
Pricing for liposuction surgery depends on many factors, but can range from approximately $1,500 to $4,700. It can be performed anytime during the year depending on your schedule.